---
---
---
---
---
---
---
---
---
---
---
---
---
---
---
---
---
---
---
---
Looking forward to the Launch of Specialised Training Pathways for Dairy Professionals taking place on Monday the 19th of June in the Aula Maxima of UCC!
Please see the event programme HERE
Please see our speakers HERE
---
Invitation: Launch of Training Pathways for Dairy Professionals
19th June in UCC at 8:30am

Deadline Registration – Friday 9th June


We are delighted to invite you to the launch of our Training Pathways for Dairy Professionals on 19th June at University College Cork (UCC), Food Industry Training Unit, University College Cork (UCC) and the UCC Dairy Science Centre of Excellence.
See the event programme here
Sign up for the event here
---
Happy International Women's Day. At Taste 4 Success Skillnet we know gender equity is good for everyone and is especially good for business. We encourage businesses to #EmbraceEquity through our range of talent development solutions, visit https://www.skillnetireland.ie/think-talent to learn more. #IWD23
Also see Skillnet Networks Helping Businesses Embrace Gender Equity
---
---
---
---
---
Develop the skills your business needs with Taste 4 Success Skillnet. Strengthening your team will give your business a competitive edge. Visit www.skillnetireland.ie/think-talent for support on how Skillnet Ireland can help you develop your people. #ThinkTalent
---
---
---
Developing #SME management & leadership capabilities support wider business growth. Take just 10mins to complete the free #SkillsForBetterBusiness assessment & discover critical development areas that will unlock growth for you and your business.
---
---
---
---
---
---
Taste 4 Success encourages businesses to Think Talent. Invest in your team to give your business the competitive edge.
Visit www.skillnetireland.ie/think-talent for supports on developing your people.
---
---
---
---
---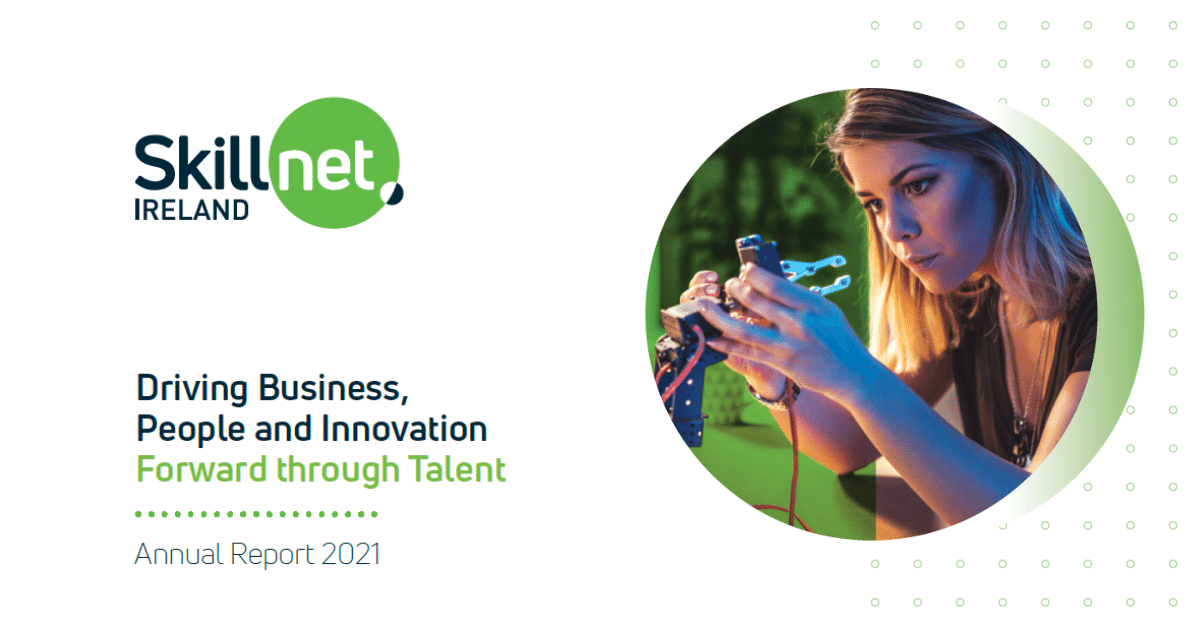 Skillnet Business Networks supported over 22,500 Irish companies with vital talent development solutions in 2021. Taste4Success Skillnet is dedicated to supporting businesses and the workforce in preparing for the new world of work through talent development. We are pleased to present the Skillnet Ireland Annual Report for 2021.
---
---
---
---
---
---
---
---
---
---
---
---
---
---

Happy International Women's Day from all of us at Taste 4 Success Skillnet. We are championing female leadership and diversity through talent development. #IWD22 #BreakTheBias
---
---
---
---
---
---
---
---
---
---
---
---
---
---
---
---
---
---
Rejuvenate Autumn 2021 is now fully subscribed. Please email info@taste4success.ie and we will record your interest in participating in a similar programme in 2022, subject to funding being approved.
---
---
---
---
---
---
---
Skillnet Business Networks supported over 21,000 Irish companies with vital workforce development solutions in 2020. Taste 4 Success Skillnet is dedicated to supporting businesses and the workforce in preparing for the new world of work through talent development. See the Annual report here.
---
---
Download "
Strategy Green

" Full Course Brochure or to Register click here
---
---
The new #ClimateReady programme from @SkillnetIreland – building sustainable businesses and talent for Ireland's green economy.
Climate Ready Academy
Climate Ready Cluster
Climate Ready Insights
Start your journey www.climateready.ie
#TalentTransformsBusiness
---
---
---
---
---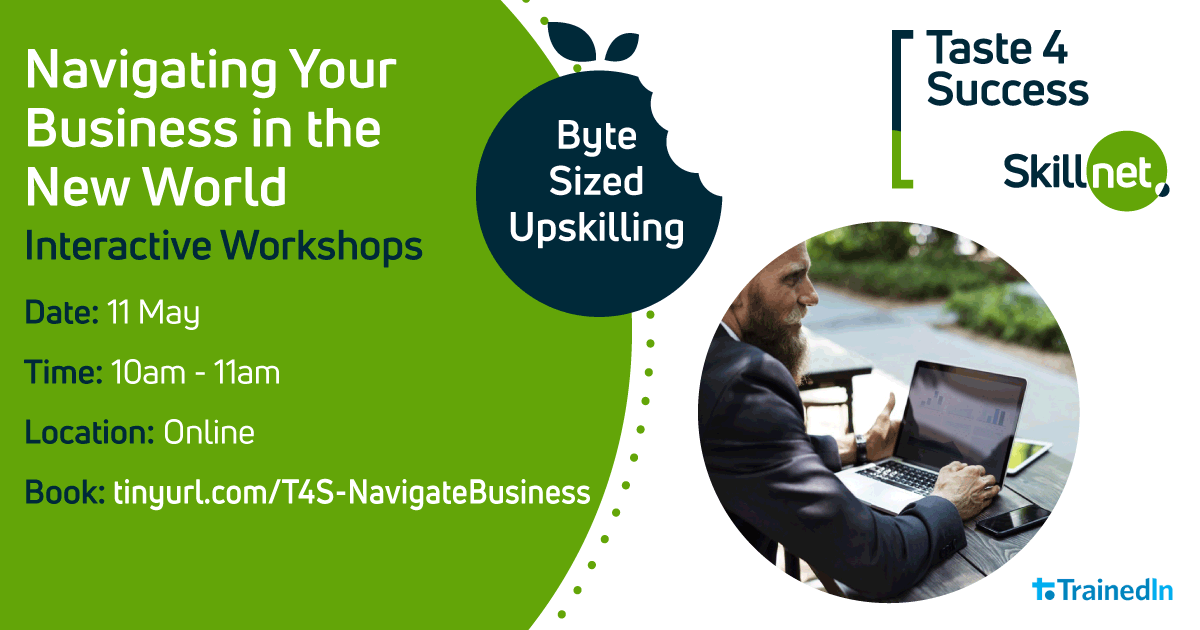 ---
---
---
---
---
---
---
As part of the wider #SkillnetIreland Network community, Taste 4 Success Skillnet is delighted to share in the Best Agency Support to Business Award in the @InBUSINESSIre Recognition Awards 2020. Read more: http://bit.ly/2020-Best-Agency #InBusiness20
---
foodlineUCC Lecture and Webinar Series
Topic: Getting to Grips with In-Factory Cleaning in Place: Post New Chlorine Regulations
FoodlineUCC, located within the Food Industry Training Unit (FITU), School of Food and Nutritional Sciences, University College Cork in partnership with Taste 4 Success Skillnet are delighted to host Nial Mullane in this topical webinar. Niall is an industry expert and CIP champion with over 34 years' experience across a variety of blue-chip companies. He will provide a 40-minute webinar which will be followed by a live Question and Answer session.
Click here to register for this free webinar
Click here to see the full invitation 
---
---
---
---
---
---
---
---
---
---
---
---
---
---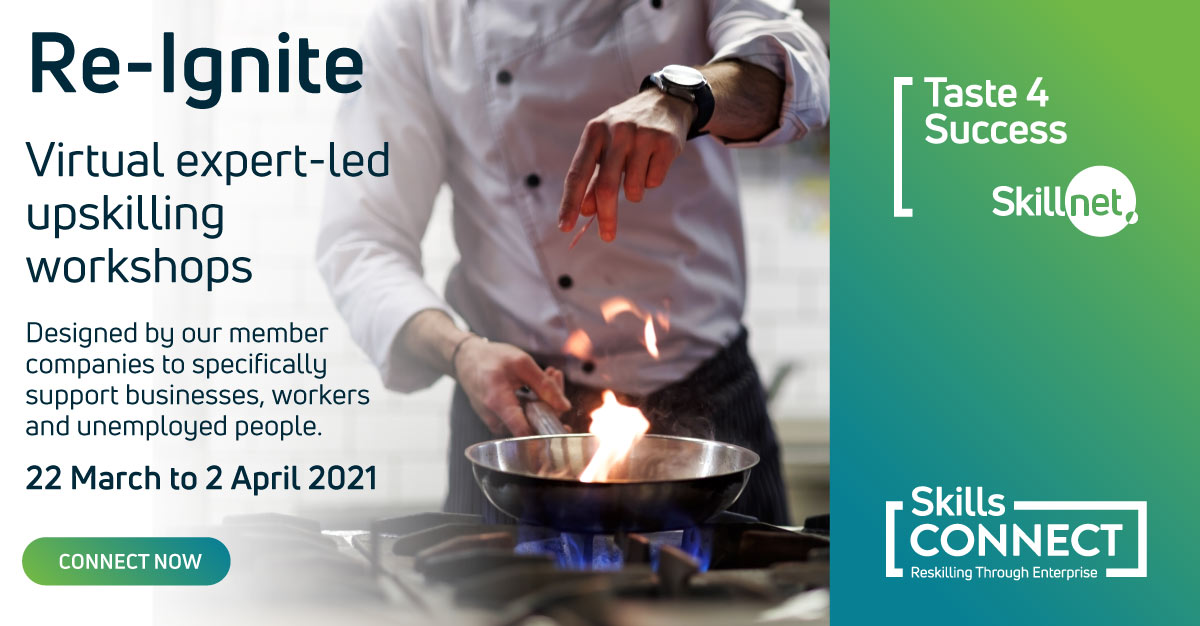 ---
---
---
---
---
---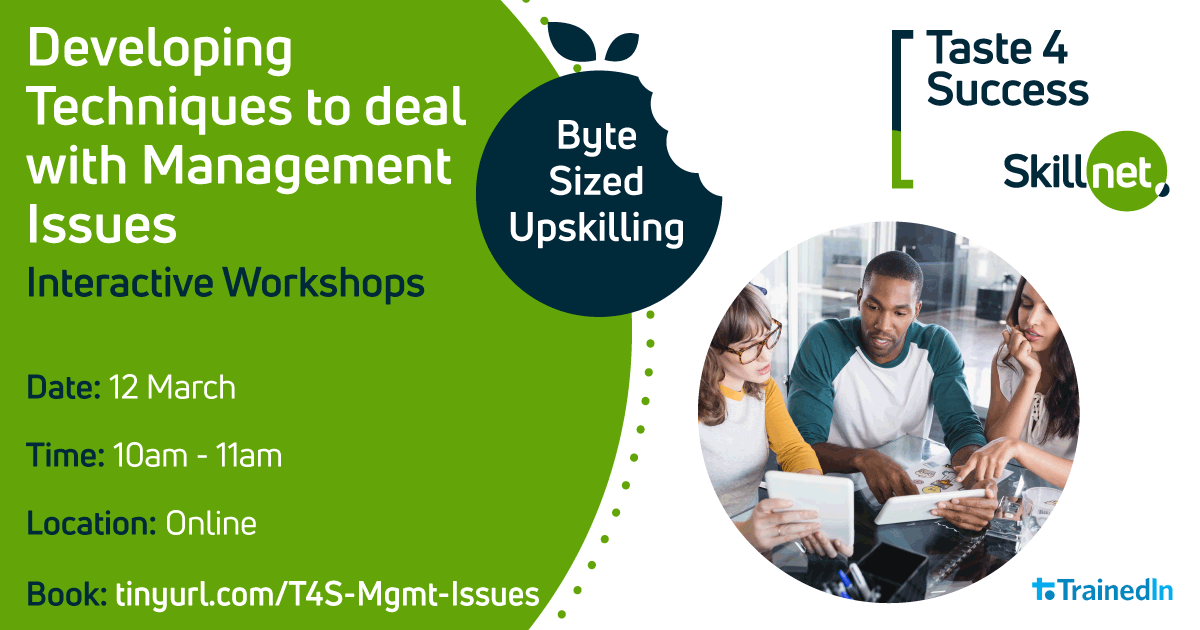 ---
---
---
---
---
---
---
---
---
---
---
---
---
---
---

---
---
---
---
---

---
Cleaning In Place (CIP) Download Course Brochure or use the REGISTER NOW button above to Register.
---
---

---

---
Skillnet Ireland has launched its Strategy 2021-2025. Our key focus for the next 5 years is how we can transform business through talent in the areas of Workforce Planning, People Development and Strategic Innovation. https://www.skillnetireland.ie/strategy2025 #TalentTransformsBusiness
---
---
---
---
---
---
Taste4Success are delighted to announce we have won an IITD Award for the Rejuvenate – Upskilling women returning to the Workforce Programme. Full details here.
---
MentorsWork is a free eight-week business support programme to SMEs nationwide and is designed to provide the skills and supports to help business owner-managers sustain and improve their business. The virtually delivered programme offers integrated learning supports across four key pillars; People, Finance and Growth, Digitalisation and Automation and Business Processes. By connecting business owners and managers across Ireland with experienced and skilled business mentors, the programme can help address specific business issues on a one-to-one basis. MentorsWork also offers specialist masterclasses, peer-focused workshops and access to a bespoke online learning platform specially designed for SMEs.
Free places are available, apply here www.mentorswork.ie

---
Are you operating a business in Ireland? If you're trading with the UK, you need to have the skills to deal with future customs challenges. Apply for @SkillnetIreland's #ClearCustoms free online training delivered by @ciltskillnet & @itcarlow accredited. www.clearcustoms.ie
---
---
#ClearCustoms has launched today as part of the Government Brexit Readiness Action Plan. The free online training developed by @SkillnetIreland will be delivered by @ciltskillnet and is accredited by @itcarlow. Find out more: www.clearcustoms.ie #BrexitReady
---

---
---
PREVIOUS TRAINING COURSES:
14th Apr: E-Commerce – Developing for Online Sales Webinar – 11am
---
The Taste 4 Success Skillnet works with its members to identify and drive training and upskilling in the food, seafood and drink sectors, to meet business, people and performance needs. In particular, we encourage and support the development of new foods, new drinks, new skills and new opportunities to grow and promote Irish Food, Seafood and Drink products, and to support job-seekers in gaining new skills and work opportunities across the sectors.
Our members include multinationals, large, medium, small indigenous Irish companies, and a growing number of micro and artisan producers involved in food, seafood and drink (micro brewing) production.
The Taste4Success Skillnet primarily focusses on supporting those in employment within the food, seafood and drink sectors sector/region. Whilst our key focus is on the needs of member companies, we also offer a small number of fully-funded programmes for jobseekers, subject to eligibility criteria and places being available on the programme.
"Our members are committed to continued up-skilling and training of our people. We continue to face many challenges in the sector and in the fortunes of our country and people. Skills and competency development are critical to enable businesses to respond quickly and effectively to the continual challenges and changes that our current and new markets require.
"We are now supporting 9 jobs directly, with additional capital spend locally for ingredients, transport, packaging and
advertising. We support our local community which is so important to rural development. We will continue to be strong supporters of Taste4Success Skillnet, now and in the future"

Read more
Gordon Lucey
Director – 9 White Deer Brewery
"It is through the work of the Taste4Success Skillnet, that we have been able to collaborate and maximize the
combined value of expertise across the sectors, to ensure we support our members, both large and small, indigenous and multinational, to train ourselves, our employees and continue to be drivers in creating employment and business for Ireland Inc."

Read more
Michael Slevin
HR Director - Rosderra Irish Meats
"Working with Taste 4 Success has enabled us to increase the amount of training and
education we are providing for our retailers and their staff. It has also helped us to reduce the cost – this is crucial as cost in many cases has been a probiting factor in retailers availing of the learning opportunities we are providing for them"

Read more
Anne Rigney
Head of Retailer Learning & Development - Musgrave Retail Partners Ireland Ltd, SuperValu & Centra